The Evelyn Hall is situated in a perfect setting next to the Abinger Hatch pub, opposite St. James Church, and the Village Green in Abinger Common, which is one mile off the A25 midway between Dorking and Guildford.
Built in the 19th century, the hall has recently been completely refurbished and now provides one of the best facilities in the area. It has a capacity to hold sixty people internally, and is supported by ample parking.
The hall can be hired, fully-equipped, for a wide variety of events, from committee meetings to small wedding receptions. The main hall has a beautiful arts and craft ceiling and a gallery. This is a delightful area, light and airy with exposed beams. The hall is fully heated allowing all seasons use. There are french windows onto a large patio into the garden, a lovely venue for summer barbecues and garden parties.
Facilities There are steps up to a covered porch at the front of the building and also disabled access to the rear into a new amenity block. The amenity block includes disabled toilets and baby changing facilities.
Inside there is a fully-equipped kitchen with cooking facilities, fridge, dishwasher and hot water urn. The hall provides a small number of basic cups and saucers and a small amount of cutlery within the hire fee, but there is a set of white china and smart cutlery available for separate hire, on request.
The main hall area seats up to 60 comfortably for meals and up to 80 for meetings. There are 10 large trestle tables and 80 fan backed chairs for use by hirers. This space is also ideal for yoga and Pilates classes.
Catering The hall has an entertainment licence. However, to sell alcohol an application for a temporary entertainment notice needs to be made. Excellent local catering can be arranged. Cutlery, china, tables and chairs are available for local outside hire.
Booking For details on availability and for all bookings and enquiries, please email Kim Edwards, the bookings secretary, at TheEvelynHall@gmail.com. If you do not have internet access and need to telephone, please call Kim on 01306 730809; please be aware this is a volunteer role and you may not get an immediate response.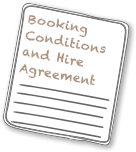 Please read the Booking Conditions and Hire Agreement before sending an email to book your event.
Once you have email confirmation that your date is available, please print off a copy of the hire agreement and sign it - no bookings will be honoured without a signed copy and your deposit cheque.
Please send this back to the address on the form, not to the Hall.